Okay, this is a true story I wrote soon after the events of September 2004. The names have been changed and some identities have been obscured to protect the... well, not-so-innocent. [The few editorial comments appears in brackets.]

I am here to relate a tale of embarrassment and fun. No one escapes unmarked or unbloodied. No one looks good. And no one has any regrets.

This is how it happened.

A couple weeks ago, some friends stopped by the bar where I work to partake of that evening's portion of the Buffy the Vampire Slayer Epic Cycle that we host at **** every Monday. We had an appreciative crowd that week and among the throng (I use that loosely) were Jimmy; his [then] boyfriend, Wondra; my buddy, Tommy; and eventually my arch-nemesis-cum-alter-ego, Kikkoman. The episodes were fun, smart, and enjoyable as usual, and when it ended, Wondra and Tommy decided they wanted to go to Nowhere (where the infamous "Box" lesbian-themed evening plays every Monday [at that time]. You may recall that "Box" has appeared before in this column as part of The Woolfe Mating Project, whereby we hoped to aid our dear gal-pal, D'vorah Woolfe, in getting a girlfriend. Or at least some pussy. Alas, Ms Woolfe has revealed to me that she HAS in fact mated, and, as I am her sole confidant in the matter, I am keeping the details under wraps at this point, at her request. Stay tuned, Gentle Reade-- er, um, Gentle Viewe-- ah, um.... More later, Gentle Reader), and they talked Kikkoman and me into coming along. Jimmy, of course, went home as he is a journalist on the Fox News website (hates it) and had to get up early for work, which is good for the plot as it keeps the number of characters down.

As I counted my tips, Wondra, Tommy, and to my utter shock and awe, Kikkoman, purchased game boards to play ****'s bingo-plus-wheel-of-fortune rip-off that occurs around 10 on Mondays and is usually hosted by the often hilarious Pudgy--she of the great height and powerful Eric Heiden-sized thighs--but on this particular night was hosted by the occasionally funny, often scattered, and sometimes off-putting, Nomi Moore, described in HX Magazine as "disturbingly real," and fired earlier in the year by D*****, the bi-polar, moody mess who sorta-owns and sometimes runs the bar, when he isn't busy fucking one of the (usually skanky) go-go "dancers."

We made short work of the game and scampered uptown to 14th street to hang with the lez-beings in attendance at "Box." I don't know what it is, but I really enjoy going to a lesbian bar with guys or a mixed group (okay, usually "mixed" means D'vorah who is one of the few lesbians I have the honor of knowing in NYC). Is it that I need to stick out? Is it that I don't have to worry about picking up (or worry about straight people)? Is it that I just lyke dykes? Probably a smattering of all of the above. Nowhere was not that crowded, and we all procured beverages and went to stand by the fake fireplace, which is considerably less charming when the fire (a tiny orange light bulb) is turned off, as it was this evening. On top of the mantle one usually finds a wide assortment of flyers advertising anything from "Big Lug," the bear and hairy muscle man party Nowhere hosts on Tuesdays, to Kiki & Herb's farewell performance at Carnegie Hall. I'm always glad to see a stack of The Onion also represented, not just because I like to read the headlines (this week: "Homosexual Tearfully Admits to Being Governor of New Jersey," "Cat Taught Not to Sleep in Wok"), but because it offers a nice stable place to rest my Sauza neat.

As we chatted I texted my good friend, Misha, who was busy shepherding a visitor from DC named Mel, but whom I call "The Amoeba," because he's pale, short, and sort of insinuates himself into situations which then require near lethal doses of antiparasitic drugs to dislodge him (as I learned in DC when I visited Misha there while he did a show). Misha is considerably nicer than I am (or maybe more wary of hurting certain feelings--WHATEVERR!!) and so found himself playing host to The Amoeba, especially because Mel came to NYC especially to see the Richard II in which Misha had a major starring role (not really, but he appeared almost nude, which is at least a plus, and probably the real reason for the visit). Misha and Mel were at the Boiler Room; I declined an invitation to join them there and exhorted them to appear with us among all the lesbians at "Box"--a nigh irresistible siren song, no one can deny.

At this point Kikkoman noticed a bottle of poppers on the "mantle." "Well, look at this," he said holding them up.

"Oh my god, are those poppers?" <-- Wondra. "Where did you get them?"
"They were just sitting here…."

"On Lesbian Night??" Tommy was incredulous.

"I'm sure lesbians like poppers too, Tommy," I offered.

"Yes, I'm sure they do," he replied, majestically.

"Are they real?" Kikkoman wondered. [Imagine the spectacle of someone leaving "fake" poppers behind at a bar. Something to plan and do....]

Wondra and I smelled, without properly sniffing, them:

Wondra & Luciferus, as one: "Yes, they're real."

Wondra said, "Should we do some?"

"I don't think I want to here," Kikkoman snorted. "I mean I've never done poppers outside of sex."

"Me neither," Tommy said.

"Give me those poppers!" I demanded, and there, in front of my friends, God, and a half-filled bar of lesbians, I did a healthy hit.

Soon, all were partaking of the little brown bottle.

After that, it dissolved into hijinks worthy of an episode of The Patty Duke Show, except without cousins, identical cousins, and with the minor addition of amyl nitrate. In quick succession we passed the bottle and all became quite high in that funny-fizzy-fine poppers way that we all know and love until the headache the next morning (though this particular bottle claimed to be from Amsterdam, where only the finest of poppers are produced. I hear. I fear). We were all laughing our asses off, initially at the idea of us doing poppers at all. Then little things registered, the tiniest details, like Wondra taking a hit in mock disdain, a pose which made me nearly drop the camera.
Sniiffffffffffff....
"I can't believe I'm doing poppers!" Kikkoman announced before putting the bottle under one nostril, then the next.

"I… know…." Tommy laughed helplessly.

We passed the bottle around, I snapped off a couple shots, then after another round of dangerously euphoric laughing, I got a nice lethal group portrait of all of us, flush from hilarity, blood vessels pulsing, writhing even, on our foreheads. We looked at the picture and all fell out immediately. Um, here's the image in question: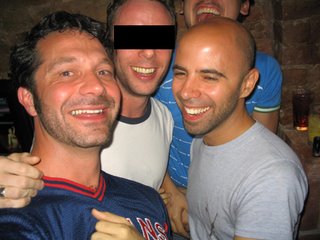 The first flushed group shot. That's Wondra at the top.
"Let's do more!" I said gaily, and did a hit.

"I couldn't," Kikkoman said. Then reconsidered and did the same.

Soon we were laughing so hard, Kikkoman and I were actually crawling on the floor.

"How did we live without poppers before tonight," I managed to sputter out.

Through the haze of my grunting-unable-to-breathe laughter, I heard Kikkoman gasp: "I ALWAYS want poppers!" which practically made me collapse on the floor entirely.

We returned to a standing position, wiping tears from our eyes, and reencountered Wondra and Tommy who had also recently dissolved into lukewarm pools of Jell-O.
This is the real: "I can't believe we're doing poppers in a bar!" shot.
Tommy's expression on the left is too priceless for words.
"Did you guys know poppers could be this much fun?" Wondra asked.

"I'd heard stories," I said. "But I never knew it could be this way," and I told the following story:

Back in the late 80s, D'vorah and a friend of hers decided that people weren't having enough fun anymore; everyone was just so dour and depressing. You know… AIDS and all…. Anyway. So they took some poppers and went to Boy Bar, where they would turn to someone on the dance floor and, while holding out the familiar bottle, say with a big smile, "Hi! Poppers??"

Each person turned away, laughing, and shaking his or her head, achieving, I suppose, the same sort of effect.

End D'vorah's story.

Eventually, we devised a little game wherein someone did a hit, and then immediately took a picture of the next person while he did the same. I submit the following montage as evidence:

Wondra.


Luciferus (thoughtfully).


Kikkoman.


Tommy.
"I think," Wondra reasoned at one point, "that we should take poppers with us wherever we go from now on."

"I agree," I agreed, as I held the tiny bottle under my nose. Snifffffffffffffffffffff!

Now, I know, Gentle Reader, that at first blush, this transcription sounds like an inane, circular exchange essentially revolving around, well, poppers. This is largely true. But the problem was that, even when the conversation edged in another direction, someone would do a hit and exclaim in delight how much better everything was on poppers! I have no trouble accepting this thesis, by the way. I also feel that general laughter is always a great thing, especially in times of war and terror. But additionally, as when stoned on weed, tiny details became much more important, and suddenly air-gaspingly hilarious. Anything from the flushed expressiveness on Tommy's face to the different ways people would take a hit: circumspectly, defiantly, demurely, carelessly, surreptitiously, postmodernly....

Meanwhile, as all this was going on, everyone else in the bar was ignoring us, or at least not caring. When I went to the bar to ask for some more bar snacks the big dyke tending the thing actually handed me the whole bag. Maybe they liked us? I don't know....

At any rate, as the hilarity and hijinks continued to ensue, Misha arrived with The Amoeba (aka Mel). Misha walked up to me with his manly, handsome smile and asked what we were giggling about.

"Oh, nothing," I said. "We've been doing poppers."

"No, you haven't."

"Oh yes." I pulled the bottle from my pocket. "Would you care to join us in Poppertown?"

"You HAVE to!" Wondra cried from across the circle.

Misha chuckled as he took the bottle and did a hit without batting an eye.

"I'm surprised at you, Misha," I said. "Oh, wait. No, I'm not."
I'm saying something to Misha that apparently begins with an "F."
"I don't think Mel will do them," Misha said. "He's a Republican, you know." Misha has a shameful fascination with older, bearish men of the Andrew Sullivan stripe. I've surmised that it's some form of self-punishment.

"Well he HAS to," said Kikkoman.

Mel came up with his and Misha's drinks. "Poppers?" I proffered.

"Well, okay, but if I'm gonna do poppers, I'd better get fucked."

Shock around the circle.

"It doesn't have to be about sex," Tommy suggested dryly." As we've learned," he added in a sotto voce giggling aside to the audience.

"All I know is that if I'm going to do poppers, I'd better get fucked," The Amoeba repeated. Later he was overheard extolling the virtues of his large penis, which he labeled "enormous." Tommy left about this time.
C'mon, you know this looks like fun.
Eventually, one by one, we all left. As Wondra took his leave, he said, "See you next week. I'll bring the poppers!"

But that, of course, is another story….
The farewell look and lick.

And that, my children, is the story of how we started bringing poppers out with us on a regular basis. There's more: like the time people came up to us at The Hole and asked if we were doing poppers, took the bottle from us, and ten minutes later the thing actually came home--but there was a circle of deliriously happy people around us; some guy even made out with his best friend (he always makes sure to remind me of this when I see him). Then there was the time the poppers bottle cap got cracked (thanks, Wondra) and someone ended up setting his hand on fire (never smoke and do poppers at the same time), but that, Gentle Reader, is another story.